Are you a great engineer or designer looking to join a world-class start-up with a social justice mission at its core? Or do you know any? If so, get in touch - the Josef team is looking to grow! The roles sit across front and back end, junior to senior, dealing with modern frameworks & open source technology.
What we do
The majority of people who face a legal problem do not get help from a lawyer. And, for those who do, many find the experience expensive, uncertain and confusing.
Josef's mission is at once simple and ambitious: to improve the way legal services are provided. To do that, we've created a "next generation" platform (or so one of the leading legal tech publications in the world says), which allows lawyers to build, launch and scale automated legal services that have been designed for end-users.
We launched in May last year and, in a short time, have expanded around the world - from New York to Melbourne to London - and across the legal industry, from top-tier commercial firms to legal aid.
Already, bots built on Josef can handle employment law, environmental law, consumer law, commercial law and much more.
You can read more about us in Bucket Orange, The Legal Forecast and Artificial Lawyer.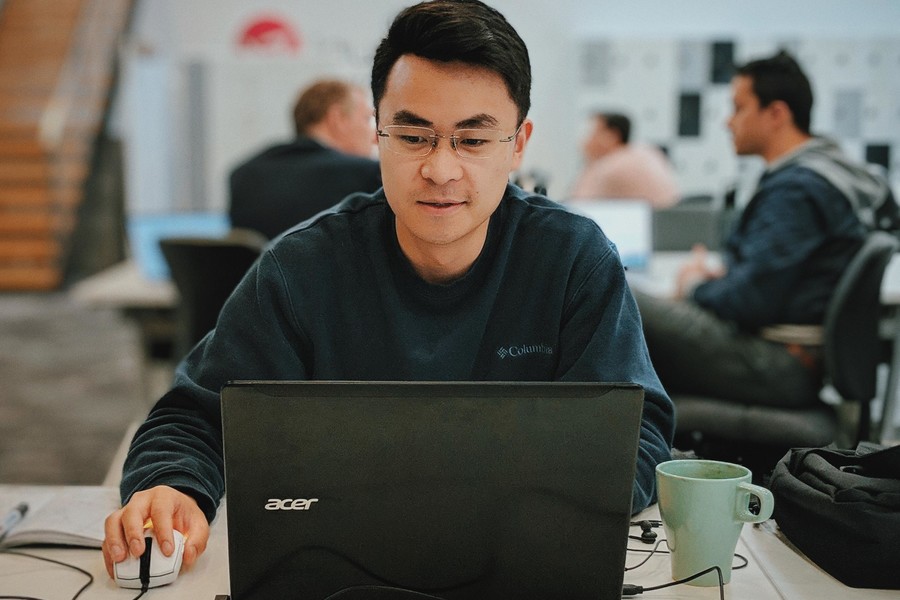 Henry, one of our newest recruits, says that he came to work for us because "it's exciting to be a part of a team that is influencing how legal services are being provided. And it's great to see so many organisations from community legal centres to law firms adopting this new technology. ... I'm looking forward to helping Josef realise this mission."
Who we are
The Josef team is exceptional, fiercely creative and driven to make a difference in the world. Because of this, our culture is open and we expect everyone to be a leader.
We are a group of friends, engineers and lawyers. We celebrate diversity and are committed to creating an inclusive, flexible and happy environment for all employees.
One of our founders, Sam, and designers Hannah and Aron, designing new product features at the Josef office.
Who we want
We're looking for the next generation of digital craftspeople who want to design solutions that truly benefit people. See below for the position descriptions.
Senior developer
Who you are
We're looking for a back-end developer to build and deliver digital solutions, working with our product team.
We are after someone who cares deeply about the impact of their work, but also about the perfection of their code. We use leading-edge platforms and tooling to create meaningful change.
You can expect support, flexibility, benefits and a great environment.
You will be
Working alongside and supporting the development team.
Building and maintaining web applications and APIs, using open source frameworks.
Contributing to our devops systems and automated workflows.
Learning, leading and contributing.
Requirements
3+ years of experience in an agency or product company.
MVC coding in PHP, Python, JavaScript, Ruby or similar.
Continuous integration, deployment and test driven practices.
API development and integration.
Familiarity with modern build tools including gulp, webpack and the like.
Design Lead (Part Time)
Who you are
As Design Lead at Josef, you will be responsible for helping us to continue to create a beautiful product and brand.
You will primarily responsible for product design. At Josef, we take pride in having a built a platform that is clean, simple and truly easy-to-use. As we build out a more sophisticated product, we want to continue to abide by this design principle. You will also be responsible for design in other parts of the business, including marketing and business collateral.
You will work with various teams across Josef and will be responsible for helping to guide design processes effectively through various stakeholders, including clients and the development team. You will be working with all parties to create best in class UX for our clients, while maintaining the coherence and integrity of the Josef brand.
You will be
Supporting and contributing to brand guidelines and best practices.
Designing user-centric UX solutions.
Working with developers iterating prototypes to support the development process.
Providing art direction for the rest of the team.
Requirements
A hunger for knowledge and a keen appetite to learn.
Passion to create beautiful and user-friendly experiences.
Sufficient knowledge of design tools such as Illustrator, Photoshop, Sketch or Figma.
An understanding of the modern web development process.
Attention to detail.
Appropriate experience in brand design and web & app design.
An open mind and desire to bring your authentic self to work every day.
Junior front-end developer
Who you are
We are seeking somebody with a passion for learning, building, craft and polish. We want people who are committed and passionate about making a change, sometimes doing a lot with a little.
You'll work closely in the technology team, surrounded by great developers, a solutions architect and technology consultants.
You can expect leadership, support, flexibility, professional development, benefits and a great environment.
Requirements
A hunger for knowledge - a keen appetite to learn in all its forms.
An understanding of the web and the infrastructure around delivering digital solutions.
Appropriate experience with web technologies.
Some work in web development and around modern JS frameworks.
An open mind and desire to bring your authentic self to work every day.
Application
To apply, simply send through an email explaining why you think you are right for the role, attaching your CV, to kirill@joseflegal.com.
Edit: this post has been updated to include a Design Lead role.